Recommended Reading
Waldorf Student Reading List is an excellent compilation of recommended books for students.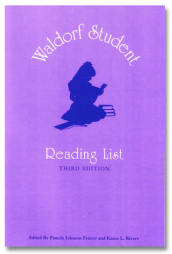 There is a copy in the Parent Library in the Mountain Oak Office, and a link if you wish to order a copy for yourself. A revised edition is due to be published in 2012 as well.
Watch The Tuesday for further information.
"The Child Today" articles by counselor and reseacher Kim John Payne
"Taming the Media Monster" by psychologist and educator Thomas Poplawski
"The Importance of Sleep" by EWS teacher Tim Marsden
Related Resources
The Online Waldorf Library offers many articles of interest on many topics. See the journals page, and in particular the Waldorf Journal Project.
The Nature Institute offers a wealth of incisive, thoughtful study related to nature, science and technology.
WeStrive provides a community platform for anthropsophically-inspired political, economic and social approaches to today's world issues.