The Festival of Strength and Courage is Friday, September 28th!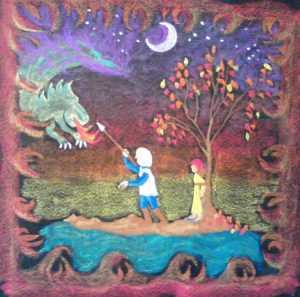 At autumn time, as the life forces of nature recede,
turning toward a winter sleep, the inner life of
the human soul is awakening.
It is a time of conscious selfhood, a time when we celebrate the
building and strengthening of our inner life.
In many cultures, the autumn time marks the beginning
of a new year. The forces of nature are transiting
with the autumnal equinox, as the relationship of
light and darkness changes the world around us.
The equinox is for us a turning point, a change in
the relation of light and darkness in the world
around us.
On September 28th
the autumn festival traditionally known as Michaelmas is celebrated.
This festival is named for the Archangel Michael,
conqueror of the powers of darkness, the
harvester of the deeds of human souls.
It is at this time that the image of Michael with the dragon
appears before us as a mighty imagination,
challenging us to develop strong, brave, free wills, to
overcome love of ease, anxiety and fear.
This demands inner activity, a renewal of the soul which is
brought to consciousness in the Michaelmas festival,
the festival of the will, the festival of courage.
See the link below for the list of items needed from each class for this Festival:
Festival-of-Strength-and-Courage-1-1